Sapphire Stationery Design & Printing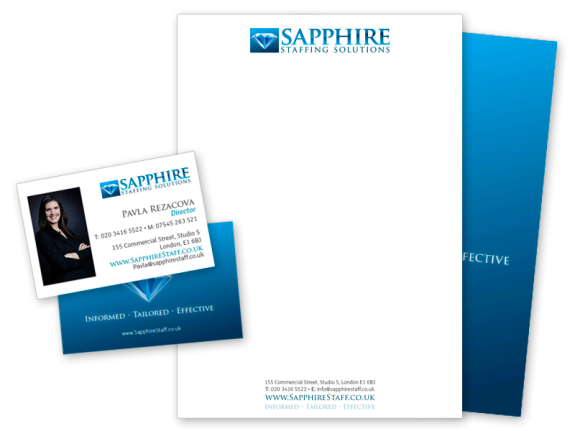 Paul & Pavla from Sapphire Staffing Solutions recently asked for a design to help with relocating their business to East London.
Naturally, I was happy to help, and they were brilliant to work with.
The project followed what should be a familiar pattern: 
We discussed their requirements and ideas over email.
I made initial sketches and sent several logo mocks through.
Amendments were made until Paul and Pavla were happy with the designs.
Stationery designs were then finalised and finally signed-off for printing.
Happy Customers!
The double-sided design was used to increase the distinctiveness of their company over other paperwork on clients' desks, even when upside down, and it is very effective. This goes hand-in-hand with the fact that your Logo, Letterheads and  Business Cards are so important for businesses. They are the 'face' of your company before anyone can see you in person.
I'm looking forward to working with Sapphire again in the future!